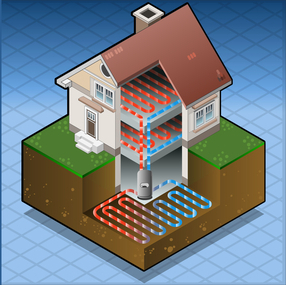 If you,re interested in cutting down on your Alliance home,s energy usage, you should consider the fact your heating and cooling probably account for around half of the energy you use in your entire home. Now consider the fact that you can eliminate much of that energy by installing a heat pump.
If you,re heating your home with electricity, you should be able to cut down on your energy by as much 30-40% by switching to an Alliance heat pump, according to the Energy Department. They also note that heat pumps are better at dehumidifying air than standard central air conditioners, which can also improve your energy efficiency during the summer months. The fact that heat pumps can be used during both the winter and summer seasons makes them a better option than switching to gas heat to save energy.
The professional Alliance HVAC contractors at Harding Heating and Cooling can help you decide if switching to a heat pump is a good idea for your home, and we can assist you throughout every aspect of the job.
How Do Heat Pumps Work?
Instead of creating heat the way a furnace does, heat pumps extract it from outside. This is the same way a refrigerator works: it removes heat from the air inside the refrigerator and moves it to the coils on the outside. This is why you,ll often notice warm air coming from the bottom of your refrigerator.
Heat pumps use this same principle to extract heat either from the air or the ground and move it into your Alliance home:
Air-source heat pumps extract heat from outside air, and they,re able to do this even when the air outside is very cold.
Ground-source (or geothermal) heat pumps extract warmth from the ground, which remains at around 55°F regardless of the outside temperatures. Flexible pipes are buried at around six feet beneath the ground.These pipes are filed with a liquid that absorbs hear from the ground, then transfers it back into your home.
Ground-source heat pumps generally cost more to install than air-source heat pumps, but they,re also much more efficient and effective in lower temperatures.
If I Buy a Heat Pump, Will I Still Need My Air Conditioner?
No! This is one of the best advantages that an Alliance heat pump can offer you. During the summer months, rather than moving hot air into your Alliance home, heat pumps can extract it from your home and move it outside-just like the refrigerator we mentioned earlier.
All you,ll need to do is change your thermostat,s settings, and your heat pump will cool your home. Additionally, a ground-source heat pump can cool your home for around half the cost of a traditional air conditioner.