Furnace Repairs in Alliance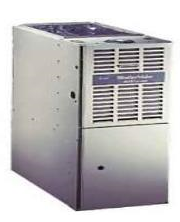 Natural gas is a combustible, gaseous mixture of simple hydrocarbon compounds, usually found in deep underground reservoirs formed by porous rock. Natural gas is a colorless, odorless fossil fuel composed almost entirely of methane, but does contain smaller amounts of other gases, including ethane, propane, butane and pentane.
Natural gas is used extensively in residential, commercial and industrial applications. It is the dominant energy used for home heating with about 51% of American homes using gas. The use of natural gas is also rapidly increasing in electric power generation and cooling, and as a transportation fuel. Natural gas is the cleanest burning fossil fuel, producing primarily carbon dioxide, water vapor and small amounts of nitrogen oxides. Other fossil fuels are coal and oil, which together with natural gas, account for about 88% of U.S. energy consumption.
Gas heat makes homes feel more comfortable because it circulates air that is warmer than body temperature.
Energy Efficient:
With efficiencies up to 98% and the fact that 90% of the natural gas that is mined and drilled actually makes it to the end user, natural gas furnaces are one of the most efficient heating options available.
Warm Air Circulation:
The air circulated by a natural gas furnace is about 115 degrees, which is substantially warmer than body temperature.
How Gas Furnaces Work:
Gas is delivered to a combustion chamber where heat is created.
An oil fired warm air furnace uses no. 2 fuel oil burned in a sealed chamber to heat an exchanger. Then with the help of a blower or fan, forces air across the exchanger, into ductwork to warm the structure.
The basic components of an oil furnace are: the burner, heat exchanger, fire box, blower and cabinet, sometimes known as the jacket. Accessories that can be installed inside or outside of the oil furnace include: a fan center, an air filter, electronic air cleaner, or high performance media filter, humidifier and air conditioning evaporator coil. With central air, sometimes a condensate pump will be used to remove the water discharged in the dehumidification action of the air conditioning.
A zone control panel and motor actuated dampers will be present on the oil furnace or ductwork if the system is zoned. Routine oil furnace maintenance includes; monthly filter replacement or washing the electronic air cleaner grids when in constant use, cleaning the humidifier if there is one and an annual tune up of the burner.
An oil burner tune up includes a nozzle and filter replacement, heat exchanger and smoke pipe cleaning, and a fuel to air mixture adjustment. Since the mixture adjustment requires the use of special instruments to meet federal standards, it is best left to a professional to obtain peak efficiency.
An electric furnace may have a few different characteristics. Electric Heat Elements These units work from metals being heated by a certain current flow (either 120v or 240v). These can be installed as baseboard heaters, heating wire embedded in ceilings or walls or panel units built into the wall.
Our Furnace Repair Services
Furnace Repairs, Maintenance and Installations
Leaking Parts, Pipes, and Radiators
Leaking Furnaces
Radiator Installations

Gas Furnaces
Electric Furnaces
Oil Furnaces
Leak Detection

Back flow preventors
All Hot Water Leaking Furnaces Repairs
Central Heating
New Installations
We Provide Furnace Repairs to the Following Areas
Stark County - Alliance, OH | Canton, OH | Louisville, OH | Massillon, OH | North Canton, OH | Hartville, OH | Minerva, OH | Greentown , OH | Paris, OH | Uniontown, OH | Middlebranch, OH | Maximo, OH | Limaville, OH | Robertsville, OH Mahoning County - Canfield, OH | Columbiana, OH | Salem, OH | Lake Milton, OH | North Jackson, OH | Berlin Center, OH | Damascus, OH | Ellsworth, OH | Sebring, OH | Newton Falls, OH
Portage County - Atwater, OH | Brimfield, OH | Deerfield, OH | Edinburg, OH | Kent, OH | Wayland, OH | Ravenna, OH | Diamond, OH | Randolph, OH | Rootstown, OH | New Milford, OH | Windham, OH
Columbia County - Columbiana, OH | Salem, OH | Homeworth, OH | North Georgetown, OH | East Rochester, OH | Lisbon, OH | Hanoverton, OH | Kensington, OH | Washingtonville, OH | Winona, OH
Why Alliance Homeowners Should Hire Us for Furnace Repairs
If it's Calling For Emergency Service: Scheduling An Annual Inspection on your existing equipment or Installing New High Efficient Equipment to reduce your energy usage. We will thoroughly evaluate your needs and schedule the right person for the task.
We're not happy until you're happy. In addition to providing first-rate service, we also strive to keep our prices fair by leveraging our experience and relationships with manufacturers to create a streamlined and cost-efficient process.