Air Conditioning Replacements in Alliance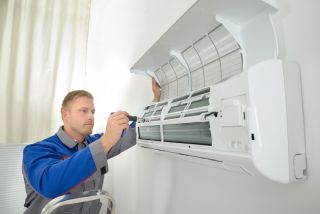 At Harding Heating and Cooling, our Alliance air conditioning contractors have been proudly serving the local community since 1975. During this time period, we have made it our mission to ensure that all of our customers have the most efficient, effective, and reliable air conditioning systems possible. If your current air conditioner is old or damaged, we can conduct the AC replacement for you.
At some point in time, every air conditioner needs to be replaced. Generally speaking, a well maintained air conditioner can be expected to last anywhere from 10 to 15 years. If you air conditioner is within this time frame and in need of repairs, it may be best to replace the Air Conditioning system altogether.
Call Harding Heating and Cooling today if you need to replace the air conditioner within your Alliance home. Our polite and knowledgeable can answer all of your AC related questions. We can schedule your appointment today.
Expert Guidance During Your Air Conditioner Replacement
Replacing your air conditioner is a substantial investment. As such, it is important to choose a new AC unit that will provide for your family's comfort needs in the most efficient manner and for the longest time period possible. At Harding Heating and Cooling, our Alliance air conditioning replacement contractors can provide you with the expert advice and services you need in order to guarantee that your project is a resounding long-term success.
We will personally inspect the layout of your property and inquire as to your unique comfort goals. In this way, we can help you choose the air conditioner that will be most customized to your home and your family's needs. Our experts will then install you new air conditioner in the most precise fashion, guaranteeing optimal long-term performance.
When to Replace Your Air Conditioner
Whenever you decide to replace an air conditioner, you are making a decision that repairs will be less economically beneficial. As such, the age and efficiency of your air conditioner are the two prime factors. If your air conditioner is over 10 years old, the benefits of repairs will be short lived. In addition, according to the Department of Energy, replacing a decade old air conditioner can reduce your cooling bills by 20% to 40%.
At Harding Heating and Cooling, our Alliance air conditioning replacement experts can help you with this decision making process. By informing you of the various benefits between the alternatives, our team can ensure that you make the best possible choice. After we replace your air conditioner, you and your family will enjoy a superb level of efficient comfort for years to come.