Duct Repairs in Alliance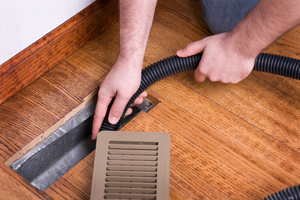 Dirt, dust, mold, pollen and animal dander are re-circulated through our air ducts every time we turn on our heat or air conditioner. When this is combined with moisture and you have the ideal breeding ground for fungi, germs and household mold. Studies have confirmed that some diseases, including salmonella, strep and legionnaires disease are spread by contaminated air ducts.
It is important to note at this time that if you choose to do air duct cleaning or repair, the entire HVAC system needs to be cleaned, not just the air ducts. Cleaning the air ducts without cleaning the HVAC unit itself is not acceptable. Sometimes there is an underlying issue within the duct system that may need to be repaired. Our skilled technicians can assess your situation and offer the best solution to get your air duct system back in working order.
Our Duct Repairs Services
AC Duct Repair
Air Conditioning Repair
Central Air Conditioner
Air Conditioner Units

HVAC Installation
Commercial HVAC
Dryer Vents
Heating Repair

HVAC Maintenance
HVAC Installation
Central Air Conditioning Repair
Heating and Air Ducts
We Provide Duct Repairs to the Following Areas
Stark County - Alliance, OH | Canton, OH | Louisville, OH | Massillon, OH | North Canton, OH | Hartville, OH | Minerva, OH | Greentown , OH | Paris, OH | Uniontown, OH | Middlebranch, OH | Maximo, OH | Limaville, OH | Robertsville, OH Mahoning County - Canfield, OH | Columbiana, OH | Salem, OH | Lake Milton, OH | North Jackson, OH | Berlin Center, OH | Damascus, OH | Ellsworth, OH | Sebring, OH | Newton Falls, OH
Portage County - Atwater, OH | Brimfield, OH | Deerfield, OH | Edinburg, OH | Kent, OH | Wayland, OH | Ravenna, OH | Diamond, OH | Randolph, OH | Rootstown, OH | New Milford, OH | Windham, OH
Columbia County - Columbiana, OH | Salem, OH | Homeworth, OH | North Georgetown, OH | East Rochester, OH | Lisbon, OH | Hanoverton, OH | Kensington, OH | Washingtonville, OH | Winona, OH
Why Alliance Homeowners Should Hire Us for Duct Repairs
We provide quality heating and air conditioning services to fit your needs. Our professional technicians are more than happy to provide you with the answers to the many questions that you might have for your HVAC system.
We have a 24 Hour live answering service so you always get to talk to a person not listen to a machine while also having a 24 Hour Emergency service when it's needed for all club members. Ongoing training for all employees in all departments keeps our technicians current and up to date on the latest HVAC techniques. We have periodic and random drug testing for all employees and perform a thorough Criminal background check before hiring to insure that your safety and property are not abused.