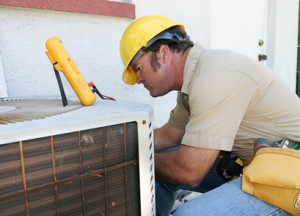 It is not uncommon for your AC unit, or any aspect of your Alliance HVAC system to need repairs at one point in time. Your unit has the potential to go out, there could be a duct problem, or maybe you need to upgrade your thermostat to allow your system to work more efficiently. All of these things can be repaired and worked on by your HVAC specialist. If you have noticed any problems with your air conditioning do not hesitate to call your local company to assess what might need to be repaired.
No matter what type of unit, or units, you have installed at your home or place of business, an AC specialist can come in and repair. With training on all makes and models, and years of experience, no job will be too much to handle. If your unit is beyond repair, your HVAC tech can offer option to upgrade your system, or to simply replace what you have that is existing.
Having a duct that either has a hole in it, or is blocked by something will significantly decrease how much cold air your home will get. This will result in your unit running constantly for no reason at all. Your HVAC Company can come in and locate the problematic duct work, and make sure there are no other areas where duct work is not letting air flow freely.
The filters you use in your AC system are important to change frequently to prevent dust build up. The key is to have fresh air flowing through your home at all times. This will help people in your home from becoming sick, and protects you from many types of air born particles that are harmful to your health and lungs
The way your Alliance AC unit blows cold air is by using a refrigeration line. If this piece of your unit is no longer working, you will no longer be getting cold air from your unit. This will cost you a lot of money on your power bill because the unit will constantly run without providing results. The repair that will be done for you involves either changing out the refrigeration lines, or recharging the system. This will allow you to consistently have cold and fresh air circulating throughout your home.
Emergency repair work is also available to any place of business or home. During hot summer it is not a good idea for you or your home to go without some AC. If you suddenly lose power, or your unit suddenly fails, feel free to contact your company,s emergency department to get fast repairs finished. No repair is too big or too small for your HVAC company so do not hesitate to call for your free quote and assessment.